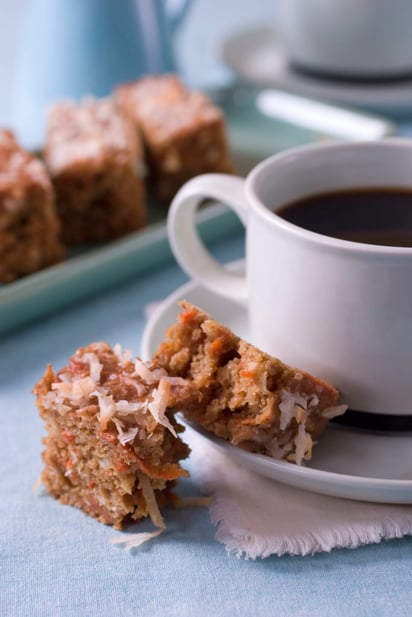 Oatmeal-Coconut Breakfast Bars
Try these healthy oatmeal-coconut bars for breakfast or in the afternoon with a cup of tea.
These bars are a nice way to get kids (and grownups) to eat a little extra nutrition from carrots, applesauce and wheat germ. They're like a dessert for breakfast. A real treat in the morning with coffee, tea or milk, they also pack well for lunch boxes and hiking snacks.
Ingredients
(12)
1 cup quick oats

1 1/2 cup apple juice

1 1/2 cup all-purpose flour

1/2 cup toasted wheat germ

3/4 cup shredded sweetened coconut, divided

2 teaspoon baking powder

1/2 teaspoon baking soda

1 teaspoon salt

1 cup packed brown sugar

1/2 cup unsweetened applesauce

2 cup grated carrots

2 eggs, lightly beaten
Ingredient Facts and Health Benefits
Discover fascinating facts and health benefits about some of the ingredients in the recipe, including other delicious recipes!
Directions
Preheat oven to 350F. Grease a 13-by-9-inch baking pan.
In a microwave-safe bowl, combine oatmeal and apple juice. Cover and heat on high 2 minutes. Let stand 10 minutes.
Combine flour, wheat germ, 1/2 cup coconut, baking powder, baking soda and salt. In a separate bowl, combine brown sugar, applesauce, carrots and eggs. Fold into flour mixture. Add oatmeal mixture and stir until just blended.
Spoon into baking dish. Sprinkle with remaining 1/4 cup coconut. Bake 50 to 60 minutes, until a toothpick inserted in center comes out clean. Cool and cut into bars.