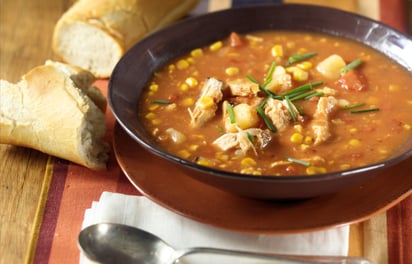 Brunswick Stew with Chicken and Pork
Leftover barbecue and chicken enrich this classic Southern stew.
This recipe is adapted from a recipe by Vicki Ownby, a certified Kansas City Barbeque Society master judge from Sevierville, Tenn. Vicki uses leftover barbecue in this dish. We found it perfect with leftover Kalua Pork and rotisserie chicken.
Ingredients
(11)
4 medium russet potatoes, peeled and chopped (4 cups)

8 cup lower-sodium chicken broth

2 cup chopped cooked chicken

3 cup shredded or pulled pork

1 large onion, chopped

1 (28-ounce) can diced tomatoes

4 (14-ounce) cans corn (2 cream-style and 2 niblet-style, drained)

1/4 cup Worcestershire sauce

1 tablespoon butter

1 cup ketchup

Freshly ground black pepper
Ingredient Facts and Health Benefits
Discover fascinating facts and health benefits about some of the ingredients in the recipe, including other delicious recipes!
Directions
Combine potatoes and broth in a Dutch oven or stockpot. Bring to a boil, reduce heat and simmer 20 to 30 minutes.
Add remaining ingredients. Cook 20 minutes.