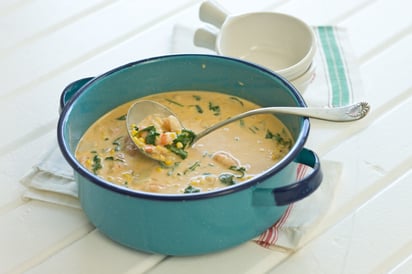 Smoky Corn and Shrimp Chowder
Loaded with calcium, this chowder combines smoked paprika and sweet corn and shrimp.
Salty, crispy bacon and smoky paprika (found in the spice section of most supermarkets) flavor this creamy soup studded with sweet corn and briny shrimp. Arugula gives it color, but parsley or spinach will work, too.
Ingredients
(11)
4 ears fresh sweet corn

4 bacon slices

1 medium white onion, chopped

1 teaspoon salt

1 teaspoon smoked paprika

1/4 teaspoon cayenne pepper

2 tablespoon flour

2 medium baking potatoes, chopped

5 cup 2-percent reduced-fat milk

1 pound shrimp, peeled (deveined, if large)

4 cup baby arugula or other peppery greens, such as mache or chopped and stemmed mustard or turnip greens
Ingredient Facts and Health Benefits
Discover fascinating facts and health benefits about some of the ingredients in the recipe, including other delicious recipes!
Directions
Cut corn kernels from cob. Scrape cobs with back of knife to release milk. Set aside.
Cook bacon in large Dutch oven. Remove from pan, drain and crumble.
Add onions, corn, smoked paprika and cayenne pepper to bacon drippings. Saute 10 minutes. Add flour, whisking well and cook 2 minutes. Add potatoes and milk. Cook 10 minutes or until thick and creamy. Add shrimp and cook until pink. Stir in arugula. Serve with crumbled bacon.