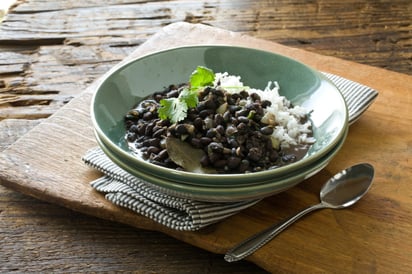 Feijao (Brazillian Black Beans)
Tender, savory and succulent, these vegetarian black beans are a daily staple in Brazil and never fail to satisfy.
Ingredients
(9)
1 pound dried black beans, picked over and well-rinsed

2 -- bay leaves

1/4 cup olive oil

1 large yellow onion, finely chopped

1/4 cup chopped garlic

2 -- green onions, finely chopped

1/4 cup chopped cilantro

1 1/2 teaspoon sea salt

3/4 teaspoon freshly ground black pepper
Ingredient Facts and Health Benefits
Discover fascinating facts and health benefits about some of the ingredients in the recipe, including other delicious recipes!
Directions
Place beans in a slow cooker set on HIGH. Add boiling water to cover beans by at least 3 or 4 inches, and add bay leaves. Cook, covered, about 1 hour and 15 minutes, then reduce heat to LOW. Cook, covered, until very soft, about 2 hours, stirring occasionally and adding more water if needed. Reserve both cooked beans and their liquid.
Heat oil in a large, deep sauté pan over medium heat. Add onion and cook slowly, stirring often, until soft and golden brown, about 8 minutes. Reduce heat to medium-low, and remaining ingredients. Sauté about 1 minute.
Add onion mixture to beans in the slow cooker; stir well. Set temperature to very LOW and let beans cook 1 hour.