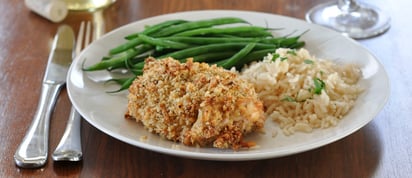 Deviled Chicken Thighs
Cayenne pepper and Dijon mustard put the "devil" in this heavenly chicken recipe.
The devil is in the details—specifically, Dijon mustard, Worcestershire sauce, Parmesan cheese and cayenne pepper. Be an angel, and remove the skin from the thighs before dredging.
Ingredients
(12)
Cooking spray

8 chicken thighs (about 2 1/2 pounds), trimmed and skin removed

1 egg

1/4 cup Dijon mustard

1 tablespoon Worcestershire sauce

1 cup panko (Japanese bread crumbs)

1/2 cup freshly grated Parmesan cheese

1/4 teaspoon coarse salt

1/2 teaspoon garlic powder

1/4 teaspoon cayenne (or to taste)

1/4 teaspoon freshly ground black pepper

4 tablespoon unsalted butter, melted
Ingredient Facts and Health Benefits
Discover fascinating facts and health benefits about some of the ingredients in the recipe, including other delicious recipes!
Directions
Preheat oven to 400F. Set a rack over a rimmed baking sheet, and mist with cooking spray.
In a shallow dish, whisk together egg, mustard and Worcestershire. In a second shallow dish, combine panko, Parmesan, salt, garlic powder, cayenne and black pepper.
Coat chicken pieces in egg mixture, dredge tops in panko mixture, and place on rack, panko side up. Drizzle with butter and bake 30 minutes, or until chicken is golden and juices run clear.