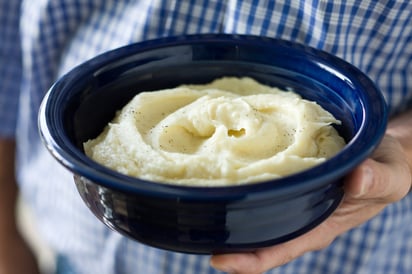 Vanilla Parsnip Puree
Sweet parsnips and musky vanilla pair beautifully in this side dish from Black Cat Farm Table Bistro in Boulder, Colo.
Ingredients
(6)
1 1/2 pound parsnips, peeled and cut into rough 1-inch pieces

3 garlic cloves, peeled and chopped

Water to cover

2/3 cup heavy cream

1 vanilla bean, split and cut into 1-inch pieces

1/4 teaspoon salt
Ingredient Facts and Health Benefits
Discover fascinating facts and health benefits about some of the ingredients in the recipe, including other delicious recipes!
Directions
Place parsnips in a medium saucepan. Cover with water and add garlic. Bring to a boil, reduce heat and simmer until parsnips are very soft and water has almost evaporated, about 20 minutes. Remove from heat and transfer to a blender or food processor. Puree until very smooth, about 5 minutes. Return pureed parsnips to pan.
Combine cream and vanilla in a small pan. Cook over medium heat until cream simmers, about 5 minutes. Remove from heat and let stand 10 minutes.
Strain cream into the parsnip puree and stir to combine well. Stir in salt.