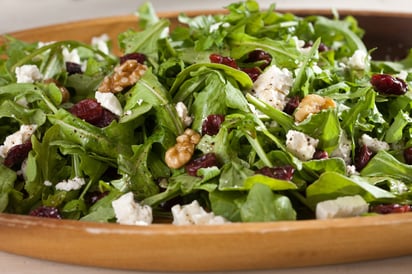 Arugula Salad with Walnuts, Dried Cherries and Feta
This salad is the ultimate in flavor contrast—peppery arugula, crunchy walnuts, tart cherries and creamy feta cheese.
Any nuts will work, along with most any dried fruit and goat cheese for the feta.
Ingredients
(8)
1 (11-ounce) container baby arugula

3/4 cup dried cherries

3/4 cup toasted walnuts

4 feta cheese, crumbled

3 sherry vinegar or balsamic vinegar

2 tablespoon olive oil

1/4 teaspoon salt

Freshly ground black pepper
Directions
Toss together arugula, cherries, walnuts and feta cheese in a large salad bowl.
Combine vinegar, oil, salt and pepper, whisking well. Drizzle over salad and toss well.