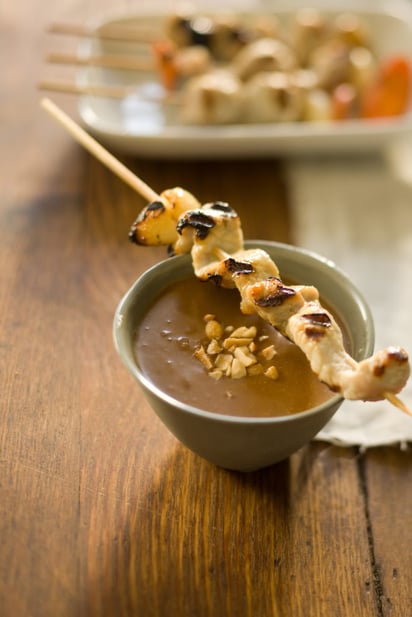 Chicken Satay with Peanut Sauce
Skewers of savory chicken and a luscious peanut sauce for dipping. Satay is the perfect dish for introducing kids to the flavors of the world.
Serve with jasmine rice and slices of seedless cucumber.
Ingredients
(13)
Sauce:

1/4 cup peanut butter

2 1/2 tablespoon hoisin sauce

1 tablespoon fresh lime juice

1 teaspoon chili-garlic sauce

3/4 cup water

Chicken:

1 1/2 pound boneless, skinless chicken breasts, cut into 1-inch strips

2 tablespoon fresh lime juice

1 tablespoon olive oil

1/2 teaspoon salt

1/4 teaspoon pepper

8 (8- to 10-inch) bamboo skewers, soaked in water at least 30 minutes
Ingredient Facts and Health Benefits
Discover fascinating facts and health benefits about some of the ingredients in the recipe, including other delicious recipes!
Directions
To prepare sauce, warm peanut butter in a small bowl in microwave. Whisk in remaining ingredients. Add 3/4 to 1 cup water, as necessary to reach desired consistency.
To prepare chicken, weave pieces onto skewers. Combine lime juice, oil, salt and pepper and brush on skewered chicken.
Prepare grill or heat grill pan to medium high. Lightly oil grill grate or pan, and grill skewers 3 minutes per side, or until chicken is thoroughly cooked. Transfer to a platter. Serve with peanut sauce.