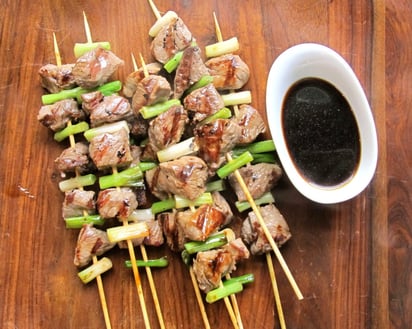 Japanese Beef and Green Onion Skewers (Yakitori)
Kids love these little beef skewers, with their sweet/salty glaze of soy, mirin and sugar.
Ingredients
(9)
3 tablespoon soy sauce

3 tablespoon mirin

3 tablespoon sugar

2 teaspoon rice wine vinegar

1 1/2 pound boneless sirloin or beef tenderloin, trimmed, and cut in 1-inch cubes

2 bunch green onions, white and light green parts only, trimmed in 1-inch lengths

1/8 teaspoon coarse salt

2 teaspoon peanut oil, plus additional for grill

8 (10-inch) bamboo skewers, soaked in water at least 30 minutes
Ingredient Facts and Health Benefits
Discover fascinating facts and health benefits about some of the ingredients in the recipe, including other delicious recipes!
Directions
Bring soy sauce, mirin, sugar and vinegar to a boil in a small, heavy saucepan. Reduce heat, and simmer 5 to 7 minutes, until slightly syrupy.
Toss beef cubes with 1 teaspoon oil in a small bowl. Toss green onions with remaining 1 teaspoon oil and salt in a second bowl. Thread beef and onions onto skewers, using 3 onion sections between each piece of beef.
Prepare a grill or heat a grill pan to medium-high. Lightly oil. Grill skewers 1 minute, turn, and grill 1 minute on second side. Brush with glaze, grill 1 minute more, turning, and brushing skewers with additional glaze. Transfer to a serving platter, and brush lightly with glaze again.