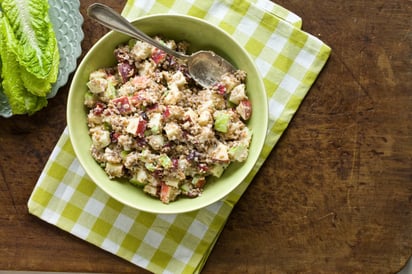 Bulgur and Apple Salad
Cracked wheat is rich in fiber and protein and can be served as a breakfast cereal, or for lunch as this salad.
Ingredients
(14)
1 1/2 cup quick-cooking bulgur

1 1/4 cup boiling water

1 green (Granny Smith) apple, cubed

2 red (Gala) apples, cubed

1 rib celery, diced

1/2 cup dried tart red cherries or cranberries

1/2 cup walnuts, toasted, coarsely chopped

1 cup plain low-fat (2%) Greek yogurt

2 tablespoon honey

2 tablespoon lemon juice

1/2 teaspoon cinnamon

1 teaspoon salt

Freshly ground black pepper

Romaine lettuce leaves
Ingredient Facts and Health Benefits
Discover fascinating facts and health benefits about some of the ingredients in the recipe, including other delicious recipes!
Directions
Combine bulgur and water in a large bowl. Cover and let stand 30 minutes.
Stir in apples, celery, cherries and walnuts. In a small bowl, whisk together yogurt, honey, lemon juice, cinnamon salt and pepper. Pour three-fourths of the dressing over bulgur mixture and stir until bulgur is coated. Serve salad on whole lettuce leaves. Add more dressing if you like.