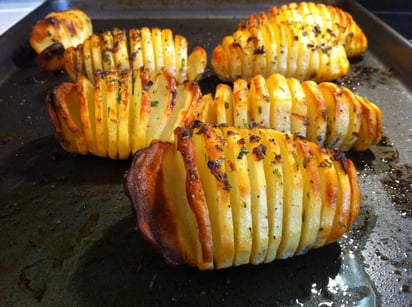 Accordion Potatoes
These are such a nice change from the usual baked or mashed potatoes, and your kids can peel off one little bite at a time.
Ingredients
(5)
1/4 cup (1/2 stick) butter, softened

1 garlic clove, crushed

1/2 teaspoon coarse salt

1/4 teaspoon pepper

4 medium baking potatoes, peeled
Ingredient Facts and Health Benefits
Discover fascinating facts and health benefits about some of the ingredients in the recipe, including other delicious recipes!
Directions
Preheat oven to 375F.
Combine butter, garlic, salt and pepper in a small bowl.
Slice 1 potato crosswise, leaving about 1/2 inch at the bottom still attached. (Place pencils on each side of the potato when cutting to ensure that you don't slice all the way through.) Smear with butter mixture, carefully working it between the slices and coating all sides.
Repeat for remaining potatoes.
Place potatoes on a nonstick baking sheet and bake 45 minutes or until golden brown and tender.