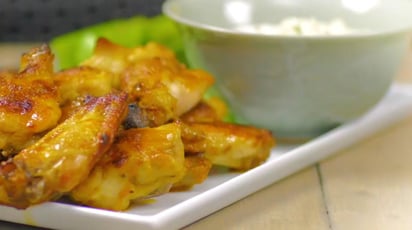 Angry Caesar Wings
A quick and easy recipe for spicy chicken wings!
Ingredients
(8)
3 pound chicken wings

6 teaspoon butter

1/3 cup hot sauce

1/3 cup creamy Caesar dressing

1 teaspoon salt

2-3 fresh jalapeños

blue cheese dressing (for dipping)

celery sticks (for serving)
Ingredient Facts and Health Benefits
Discover fascinating facts and health benefits about some of the ingredients in the recipe, including other delicious recipes!
Directions
Leave the wings on the counter while you prepare the sauce to get to room temperature.
Melt the butter in a small saucepan over medium-low heat. Once melted, remove from heat and whisk in the hot sauce, creamy Caesar dressing, and salt.
Transfer the wings to a mixing bowl. Pour half the sauce mixture over them and toss to coat.
Cover the bowl and marinate on the counter for 20 to 30 minutes.
When ready to cook the wings, position an oven rack 6 to 8 inches below the broiling element and turn on the broiler. Line a baking sheet with aluminum foil.
Remove the wings from the marinade and shake off any excess. Arrange the wings on the foil-lined baking sheet, spaced a little apart. Discard the marinade.
Broil for 10 to 12 minutes, then flip. Broil for another 10-12 minutes. The wings are done when the skin is crispy and the meat pulls easily from the bones.
Remove from the broiler and brush or toss with the remaining buffalo sauce.
Transfer the wings to a serving tray and serve while still piping hot with the blue cheese dressing and celery sticks alongside. Sprinkle with thinly sliced jalapeños.