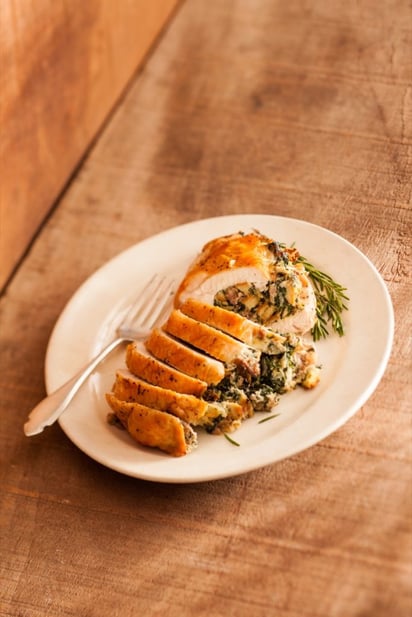 Turkey Breast Stuffed with Sausage, Garlic and Spinach
Skip messing with the big bird on Thanksgiving and make a stuffed turkey breast.
Pick up a boneless turkey breast half (with the skin on), cut a pocket into it, and pile in the stuffing. You'll have enough stuffing for two turkey breasts. If making just one, bake the remaining stuffing in a pan.
Ingredients
(12)
1 pound sweet Italian sausage, removed from casings

1 medium onion, chopped

1 tablespoon fennel seeds

4 garlic cloves, minced

3 cup 1/2-inch bread cubes

1 (10-ounce) box frozen spinach, thawed and squeezed dry

1/2 to 1 cup reduced-sodium chicken broth

1 egg

2 boneless turkey breast halves, about 2 pounds each

1 teaspoon salt

Freshly ground black pepper

Olive oil
Ingredient Facts and Health Benefits
Discover fascinating facts and health benefits about some of the ingredients in the recipe, including other delicious recipes!
Directions
Preheat oven to 350F.
In a large skillet, cook sausage, onion, fennel and garlic until sausage is no longer pink, about 10 minutes. Toss with bread cubes, spinach, broth and egg, mixing well. Let cool.
Make a large pocket-like slit in turkey breast half. Spoon in about half the spinach mixture. Tie with kitchen twine. Brush with oil. Sprinkle with salt and pepper. Place in a roasting pan. Repeat with remaining turkey and stuffing or place remaining spinach mixture in a greased baking dish.
Bake turkey breasts (or extra stuffing) 35 to 45 minutes or until a meat thermometer inserted into the thickest part of the breast registers 160F. Let stand 10 minutes. Remove twine, slice turkey and serve hot or room temperature. Spoon pan juices over sliced turkey. Serve extra stuffing on the side.