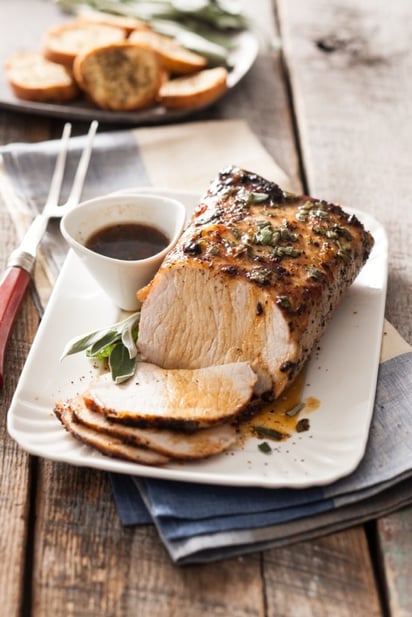 Roast Pork with Honey and Sage
A balanced display of sweet and savory flavors make this a go-to special occasion dish.
Ingredients
(8)
1 teaspoon garlic powder

2 teaspoon coarse salt

1 teaspoon ground black pepper

2 1/2 to 3 pound boneless pork loin

2 tablespoon vegetable oil

1 tablespoon honey

2 tablespoon extra-virgin olive oil

1 tablespoon minced fresh sage or 1 teaspoon dried
Ingredient Facts and Health Benefits
Discover fascinating facts and health benefits about some of the ingredients in the recipe, including other delicious recipes!
Directions
Preheat oven to 400F.
Combine garlic powder, salt and pepper. Press on pork evenly. Let stand 15 minutes to 1 hour.
Heat vegetable oil in a shallow, ovenproof pan. Add pork and sear 3 minutes per side. Place pan in oven and roast 25 minutes.
Mix honey, olive oil and sage together.
Remove pork from oven, coat with honey mixture on all sides. Return to oven. Roast 10 to 15 minutes, until pork reaches an internal temperature of 145F. Remove from oven and transfer pork to a platter; cover loosely with foil. Let rest 10 minutes. Slice pork on the bias. Serve with pan sauce.