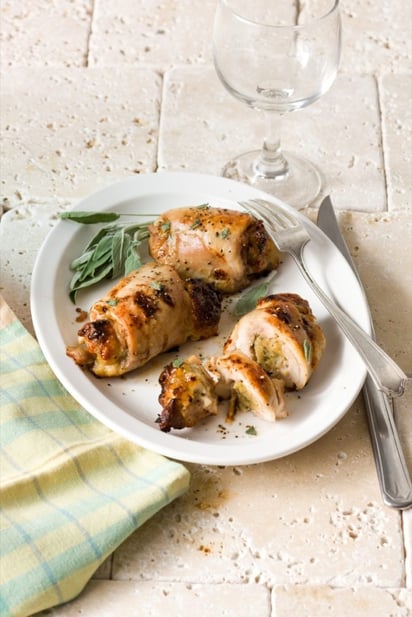 Cheese Stuffed Chicken Thighs
Stuffed with a cheesy breadcrumb center, these herbed chicken thighs are bursting with flavor.
Ingredients
(10)
8 boneless, skinless chicken thighs

1/4 teaspoon coarse salt

Freshly ground black pepper

1/2 pound provolone cheese, diced

1/2 cup chopped fresh sage

1 cup breadcrumbs

Finely grated rind of 1 lemon

3 eggs, slightly beaten

1/4 cup extra-virgin olive oil

2 tablespoon honey
Ingredient Facts and Health Benefits
Discover fascinating facts and health benefits about some of the ingredients in the recipe, including other delicious recipes!
Directions
Preheat oven to 450F.
Sprinkle both sides of thighs with salt and pepper.
Combine cheese, sage, breadcrumbs and lemon rind. Add eggs and stir well. Place a small mound (2 to 3 tablespoons) of breadcrumb mixture on each thigh. Roll up tightly to cover filling. Place on a sheet pan or baking dish, seam side down Roast 30 minutes.
Combine olive oil and honey; mix well. Remove thighs from oven and brush with olive oil-honey mixture. Roast another 5 minutes, or until thighs are golden. Let stand 10 minutes before serving.