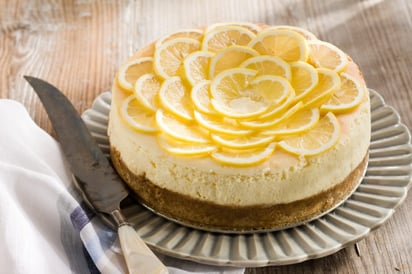 Lemon Mousse Cheesecake
Mousse-like cheesecake with a soft, creamy filling and kick of lemon flavor.
The water bath tempers the heat, creating the soft, creamy consistency. If you skip the water bath, the cheesecake will have a firmer, more traditional cheesecake texture.
Ingredients
(11)
Crust:

5 tablespoon melted butter

40 vanilla wafers, crushed, or 8 graham crackers, crushed (about 1 1/2 cups)

1/4 cup sugar

Filling:

24 ounce cream cheese

1 1/3 cup sugar, divided

1/3 cup all-purpose flour

4 eggs, separated

1 tablespoon finely grated lemon rind

3/4 cup lemon juice (about 4 lemons)
Ingredient Facts and Health Benefits
Discover fascinating facts and health benefits about some of the ingredients in the recipe, including other delicious recipes!
Directions
Preheat oven to 325F.
To prepare crust, combine all ingredients. Stir well and press into a 10-inch springform pan.
Combine cream cheese and 1 cup sugar; beat until fluffy, about 5 minutes. Add flour, egg yolks, lemon rind and juice; beat until smooth. Beat egg whites until soft peaks form. Add remaining 1/3 cup sugar; beat until stiff peaks form. Fold into lemon batter. Pour batter into crust. Place pan in a large baking pan. Add water to baking pan to a depth of 1 inch. Bake about 55 minutes, until cake is set but still jiggly in the center. Cover and chill at least 4 hours.