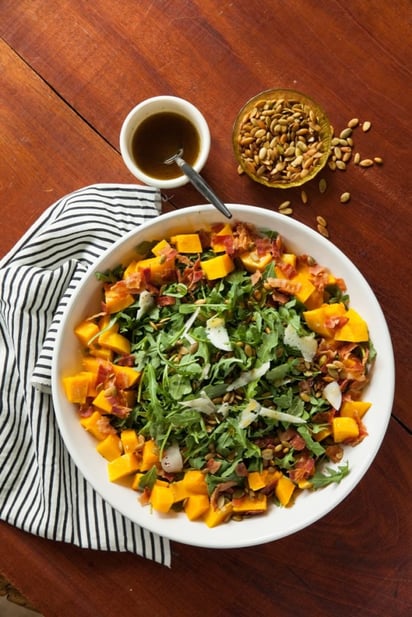 Warm Pumpkin Salad with Bacon and Pumpkin Seeds
Fresh pumpkin shows off its savory side in this warm main-dish salad.
Add shrimp, beef or chicken to make this a satisfying main dish.
Ingredients
(14)
Pumpkin:

1/2 teaspoon salt

1 1/2 tablespoon olive oil

Vinaigrette:

1/4 cup maple syrup

3 tablespoon apple cider vinegar

1/3 cup extra-virgin olive oil

1/2 teaspoon salt

1/4 teaspoon freshly ground pepper

Salad:

6 ounce baby arugula

4 slice (1/4 pound) bacon, cooked and crumbled

1/2 cup pepitas (shelled pumpkin seeds), toasted

2 ounce Pecorino Romano cheese, shaved with a vegetable peeler
Ingredient Facts and Health Benefits
Discover fascinating facts and health benefits about some of the ingredients in the recipe, including other delicious recipes!
Directions
Preheat oven to 375F.
To prepare pumpkin, toss pumpkin with olive oil and salt. Place on a foil-lined baking sheet and roast 15 to 25 minutes, until tender. Set aside.
To prepare vinaigrette, combine maple syrup and vinegar in a small saucepan and bring to boil over medium heat. Remove from heat and whisk in olive oil. Stir in salt and pepper. (Makes about 1 cup. Leftovers can be refrigerated in a covered container up to a week).
To prepare salad, combine arugula with about 1/4 cup vinaigrette. Toss well. Top with roasted pumpkin, bacon, pepitas and cheese. Serves 4.