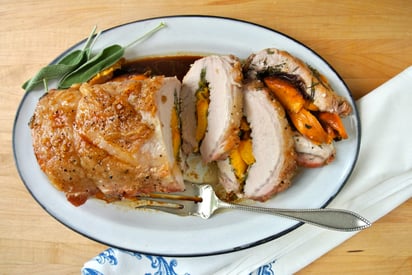 Rosemary Sage Peach Stuffed Pork Loin
Slices of stuffed pork display beguiling whirls of herbs and peaches.
Ingredients
(7)
3 pound boneless pork loin

Coarse salt (about 2 teaspoons)

Freshly ground black pepper (about 1 teaspoon)

4 sprig fresh rosemary, chopped

1 bunch fresh sage, chopped

3 to 4 fresh ripe peaches, pitted and sliced ¼-inch thick

Kitchen twine—cut into 4 (14-inch) pieces
Directions
Preheat oven to 425F.
Butterfly pork loin: Place roast on a cutting board. With a sharp knife, begin slicing into the roast, about 1 inch from the bottom. As you continue slicing the length of the roast, pull back the meat, effectively unrolling it. Press meat flat. Liberally sprinkle with salt and black pepper, followed by chopped rosemary and sage. Arrange peach slices to cover. Roll meat back into its original shape.
Slide pieces of twine underneath meat. Secure roll by tying twine. Place in roasting pan, fat side up, seam side down. Sprinkle top of meat with salt and black pepper.
Bake uncovered 15 minutes, then reduce oven heat to 350F and continue baking 25 to 30 minutes. When the internal temperature reaches 140F, remove from oven.
Allow meat to rest 15 minutes before slicing. Meanwhile, add water to roasting pan and scrap pan to loosen brown bits. Remove twine and slice roast into ½-inch thick rounds. Arrange slices on a platter and pour juices over meat.