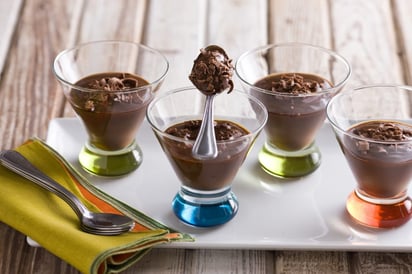 Chocolate-Orange Mousse
This intense, dark chocolate dessert is smooth and creamy.
Ingredients
(8)
1 (16-ounce) package silken tofu, drained

7 tablespoon cocoa powder

1/3 cup maple syrup

1/2 cup powdered sugar

8 tablespoon espresso powder or instant coffee powder

1 tablespoon vanilla extract

1/8 teaspoon salt

1 ounce Amaretto (optional)
Directions
Process all ingredients in a food processor or blender until smooth. Pour into wine or champagne glasses. Chill overnight. Serve with fresh orange slices, toasted almonds or shaved chocolate garnish.