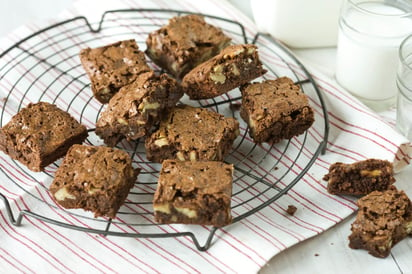 Katharine Hepburn's Brownies
Mixed in one pan, these brownies are favorites of actress Katharine Hepburn.
Ingredients
(8)
1/2 cup (1 stick) butter

2 (1-ounce) squares unsweetened chocolate

1 cup sugar

2 eggs

1/2 teaspoon vanilla extract

1/4 cup all-purpose flour

1/4 teaspoon salt

1 cup chopped walnuts (optional)
Ingredient Facts and Health Benefits
Discover fascinating facts and health benefits about some of the ingredients in the recipe, including other delicious recipes!
Directions
Preheat oven to 325F. Butter and flour an 8-inch square pan.
Place butter and chocolate in a saucepan. Heat over medium-low heat until chocolate melts. Remove from heat.
Stir in sugar, eggs and vanilla. Beat well. Stir in flour and salt. Stir in walnuts, if using.
Bake about 40 minutes. Let cool and cut into 2-inch squares.