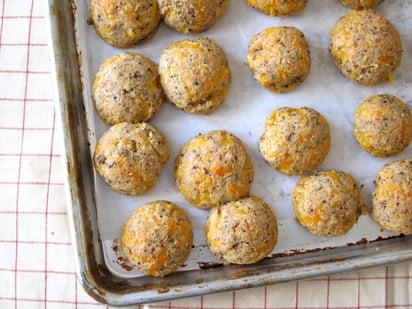 Soysage Balls
This recipe is based on the old-school one made famous by Bisquick.
Because the soysage is inherently lean and crumbly, you'll need to add some milk to help the mixture bind together.
Ingredients
(6)
12 ounce vegetarian soy sausage (like Soysage)

8 ounce shredded sharp Cheddar cheese

2 cup baking mix* (like Bisquick)

1 tablespoon soy sauce

1 teaspoon cayenne

1/2 cup 2 percent reduced-fat milk
Ingredient Facts and Health Benefits
Discover fascinating facts and health benefits about some of the ingredients in the recipe, including other delicious recipes!
Directions
Preheat oven to 400F. Line a baking sheet with parchment.
Crumble vegetarian soy sausage into fine pieces. Add the cheese, baking mix, soy sauce and cayenne. Blend well. Pour in the milk and continue mixing. The mixture will come together. If it seems too crumbly, add a little more liquid.
Roll into small bite-sized ball shapes and place baking sheet. Bake 10 to 12 minutes. Makes 3 dozen.