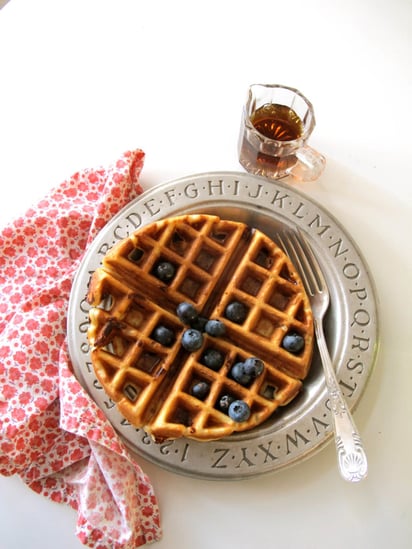 Gouda Waffles
These whole-grain waffles are both sweet and savory.
Serve as breakfast or dinner with fruit and Canadian bacon or sausage, then pour on pure maple syrup or more applesauce.
Ingredients
(9)
1 cup all-purpose flour

1/2 cup whole-wheat flour

2 teaspoon baking powder

1/2 teaspoon salt

3 eggs, beaten

1 1/2 cup 2 percent reduced-fat milk

1/2 cup unsweetened applesauce

1 tablespoon canola oil

3 ounce Gouda cheese, shredded
Ingredient Facts and Health Benefits
Discover fascinating facts and health benefits about some of the ingredients in the recipe, including other delicious recipes!
Directions
Combine flours, baking powder and salt in a large bowl.
Whisk together eggs and milk. Add applesauce and oil; stir to combine. Pour into dry ingredients and stir until just moistened. Fold in cheese.
Coat a preheated waffle iron with nonstick cooking spray. Pour about ¾ cup batter onto hot waffle iron. Close the waffle iron lid and cook until golden brown and cooked through. Makes 5 (7-inch) waffles.