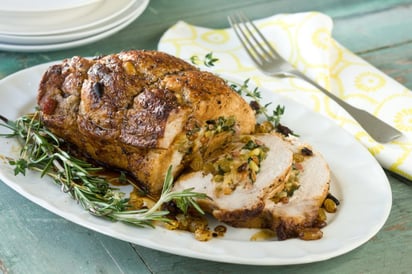 Sweet Stuffed Sicilian Pork Loin
California raisins star in this show-stopping Italian-inspired pork roast.
Ingredients
(13)
3/4 cup chopped cooked spinach

1/4 pound chopped prosciutto

1 cup golden California raisins

4 tablespoon fresh breadcrumbs

4 tablespoon pine nuts, toasted

3/4 cup shredded provolone

2 teaspoon olive oil, divided

1/2 teaspoon salt, divided

Freshly ground black pepper

2 1/2 pound center cut pork loin, butterflied

1 cup Marsala wine

1/2 cup reduced-sodium chicken broth

2 tablespoon unsalted butter
Ingredient Facts and Health Benefits
Discover fascinating facts and health benefits about some of the ingredients in the recipe, including other delicious recipes!
Directions
Preheat oven to 350F.
Combine spinach, prosciutto, raisins, breadcrumbs, pine nuts, provolone, 1 teaspoon oil, 1/4 teaspoon salt and pepper.
Pound pork loin to an even thickness, about ½-inch thick. Sprinkle both sides of meat with remaining salt and pepper.
Spread spinach mixture over meat. Roll up, from short end, and tie with kitchen string.
Heat a large ovenproof pan over high heat and add remaining oil. Cook meat, turning, until outside is browned.
Place pan in oven and cook 1 hour, or until meat reaches an internal temperature of 140F. Remove pan from oven, place pork on a cutting board, and cut off string. Let rest 5 to 10 minutes.
While meat is resting, prepare sauce. Remove excess fat from roasting pan, leaving behind the brown bits. Place pan on burner over high heat and add Marsala and chicken broth. Bring to a boil, scraping pan with a spoon to loosen brown bits. Cook until reduced by half. Remove from heat and swirl in butter. Spoon sauce over the sliced pork to serve.