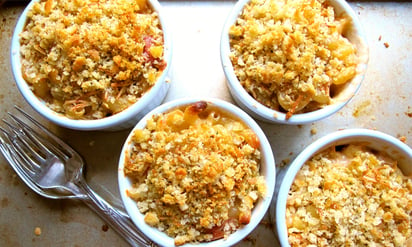 Smoky Mac and Cheese
Smoked Gouda and fire-roasted tomatoes add a double hit of smoky flavor to this luscious mac and cheese.
Parmesan-spiked panko crumbs add a crunchy finish, and individual ramekins mean "Yea! All mine!"
Ingredients
(13)
Olive oil for brushing ramekins

3 tablespoon unsalted butter, divided

1/2 cup panko breakcrumbs

2 tablespoon plus 1/4 cup freshly grated Parmesan cheese, divided

8 ounce cavatappi pasta

1 tablespoon all-purpose flour

2 teaspoon dry mustard

2 cup whole milk

3/4 teaspoon coarse salt

1/4 teaspoon freshly ground black pepper

4 ounce shredded smoked Gouda (about 1 cup)

3 ounce shredded sharp white Cheddar (about ¾ cup)

1 (14 1/2-ounce) can diced fire-roasted tomatoes
Ingredient Facts and Health Benefits
Discover fascinating facts and health benefits about some of the ingredients in the recipe, including other delicious recipes!
Directions
Preheat oven to 375F. Lightly oil 6 (1-cup) ramekins, and set on a baking sheet. Melt 1 tablespoon butter and combine with panko. Stir in 2 tablespoons Parmesan.
Cook pasta according to package directions, undercooking by 2 minutes.
While pasta is cooking, melt remaining 2 tablespoons butter in a heavy saucepan over medium-low heat. Add flour and mustard; whisk 2 minutes. Add milk, whisking to combine. Increase heat to medium and bring to a boil. Simmer, still whisking, until slightly thickened, about 3 minutes. Stir in salt and pepper and remove from heat; stir in Gouda until fully combined, then stir in Cheddar and remaining ¼ cup Parmesan.
Drain tomatoes in a strainer. Drain pasta and return to pot. Add tomatoes and pour in sauce. Stir to blend. Transfer to ramekins. Sprinkle panko mixture over tops. Bake about 20 minutes, until golden and cheese is bubbling.