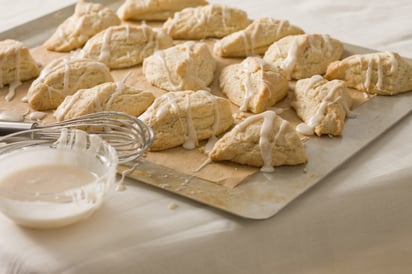 Mother's Scones
Drizzled with icing, these scones, from a Portland, Ore., chef, are light, tender and perfect for Mother's Day.
Ingredients
(10)
Scones:

2 1/4 cup all-purpose flour

1/3 cup granulated sugar

1 tablespoon baking powder

11 tablespoon (1 stick plus 3 tablespoons) cold unsalted butter, cut into small pieces

1 cup cold heavy cream

Vanilla Icing:

1 cup powdered sugar

1/4 teaspoon vanilla extract

1 1/2 tablespoon water
Ingredient Facts and Health Benefits
Discover fascinating facts and health benefits about some of the ingredients in the recipe, including other delicious recipes!
Directions
Preheat oven to 375F.
To prepare scones, whisk together flour, granulated sugar and baking powder in a large bowl until well combined.
Add butter. Using a pastry blender or your hands, blend butter into dry ingredients until mixture is consistency of coarse meal.
Add cream; stir just until blended.
Turn out onto a lightly floured surface and knead lightly until a smooth dough is formed. Pat into a square about 1-inch thick. Cut dough into 16 triangles (cut into 4 squares first, then cut each square into fourths diagonally). Arrange 1 inch apart on a parchment-lined baking sheet.
Bake until lightly browned, 15 to 20 minutes. Cool a few minutes before icing.
To prepare icing, mix powdered sugar and vanilla extract in a small bowl. Add water, a little at a time, to achieve a drizzling consistency.
Dip end of a whisk into icing, then wave over warm scones.