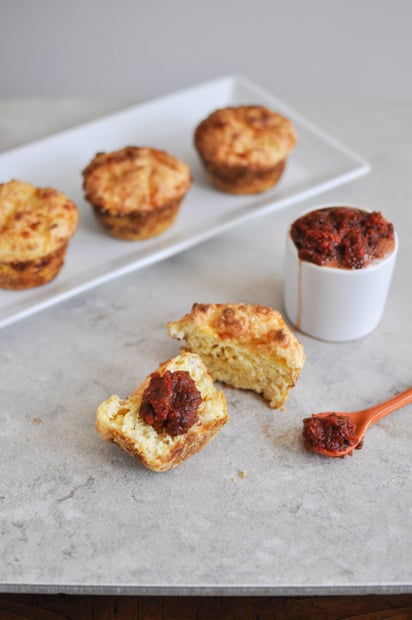 Comte Cheese Spoon Breads with Roasted Pepper Raisin Jam
Made in individual muffin cups, these spoon breads are cheesy, creamy and delicious, especially when served with Roasted Pepper Raisin Jam.
Ingredients
(12)
Spoon Breads:

1 1/2 cup 2-percent reduced-fat milk

1/2 cup yellow cornmeal

1/4 teaspoon coarse salt

Freshly ground pepper

3 eggs, separated

2 ounce Comte cheese, grated

2 ounce Romano cheese, grated

Roasted Pepper Raisin Jam:

1 cup roasted red bell peppers

1/2 cup dark raisins

2 teaspoon balsamic vinegar
Ingredient Facts and Health Benefits
Discover fascinating facts and health benefits about some of the ingredients in the recipe, including other delicious recipes!
Directions
Preheat oven to 375F. Spray 6 muffin cups with cooking spray. Coat each cup with cornmeal.
Heat milk in a saucepan over medium heat until hot. Add cornmeal, salt and pepper; whisk well. Cook until thick, about 5 minutes. Gradually stir a small amount of hot cornmeal mixture into egg yolks; add back to remaining cornmeal mixture stirring constantly. Let cool.
Beat egg whites until stiff peaks form. Gently fold egg whites and cheeses into cornmeal mixture. Divide mixture evenly among muffin cups. Bake 40 minutes, or until browned and knife inserted in center comes out clean. Serve with jam.
To prepare jam, place peppers, raisins and vinegar in food processor. Pulse a few times until mixture is chunky.