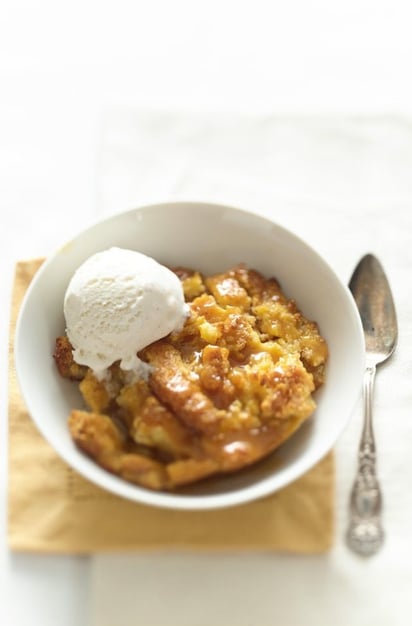 Caramel Banana Cornbread Pudding
Bread pudding gone wild! Cornbread as a base, with caramel, banana and a touch of ginger.
Corn muffins or leftover cornbread make this decadent dessert—reminiscent of Bananas Foster—a snap. Be sure to crumble the muffins into large chunks. Serve warm with vanilla ice cream or caramel sauce.
Ingredients
(8)
1 (8-ounce) package corn muffin mix

3 bananas, sliced

3/4 cup dark brown sugar, divided

3 cup 2 percent low-fat milk

4 eggs

1/2 teaspoon ground ginger

1/2 teaspoon ground cinnamon

1/4 cup caramel sauce or topping
Ingredient Facts and Health Benefits
Discover fascinating facts and health benefits about some of the ingredients in the recipe, including other delicious recipes!
Directions
Prepare corn muffins according to package instructions. Cool. Crumble 4 muffins into large chunks.
Preheat oven to 325F. Lightly butter a 2-quart or 8-inch-square ceramic baking dish or 6 small (8 ounce) ramekins.
Arrange banana slices in the dish. Top with 1/4 cup of the brown sugar and chunks of corn muffins.
Combine milk, eggs, remaining brown sugar, ginger and cinnamon; whisk well. Pour over muffins.
Bake 50 minutes. Drizzle with caramel sauce. Serve warm.