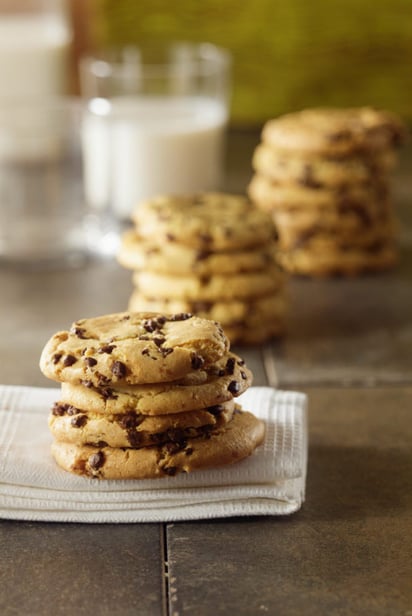 Soul Dog Gluten-Free Chocolate Chip Cookies
Sinfully sweet and studded with melty chocolate chips, no one will suspect that these melt-in-your-mouth cookies are gluten-free.
Soul Dog substitutes Gluten-Free Baking Mix cup for cup for wheat flour, except in bread recipes. Look for xanthan gum next to the specialty flours.
Ingredients
(17)
Gluten-Free Baking Mix:

2 1/3 cup chickpea flour

1/4 cup sugar

2/3 cup cornstarch

3 1/2 teaspoon xanthan gum

1 1/2 teaspoon salt

1 teaspoon cream of tartar

Cookies:

1 cup canola oil

3/4 cup sugar

3/4 cup brown sugar

2 eggs

1 teaspoon vanilla

2 1/3 cup Gluten-Free Baking Mix

1 teaspoon salt

1 teaspoon baking soda

2 cup chocolate chips
Ingredient Facts and Health Benefits
Discover fascinating facts and health benefits about some of the ingredients in the recipe, including other delicious recipes!
Directions
Preheat oven to 350F. Grease a baking sheet.
Combine ingredients for Gluten-Free Baking Mix. Store in an airtight container.
Combine oil and sugar in a large bowl, and beat with a mixer on medium-high speed. Add eggs, one at a time, mixing until creamy. Add vanilla.
Reduce speed to low and gradually add baking mix, baking soda and salt. Stir in chocolate chips.
Drop by level tablespoons or small ice cream scoop 2 inches apart onto baking sheet. Flatten slightly.
Bake 10 to 12 minutes. Remove cookies from pan; cool on wire racks.