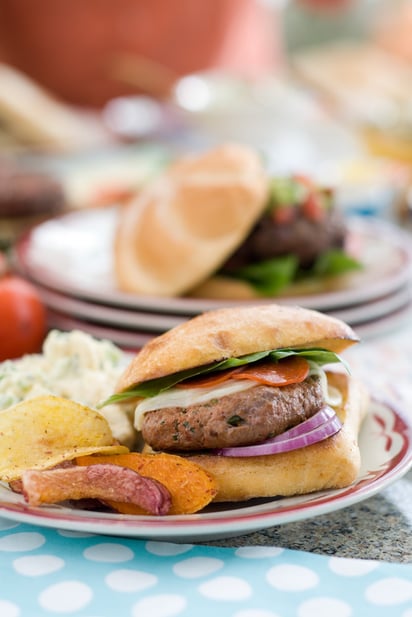 Pepperoni Pizza Burgers
Favorite pizza flavors blend beautifully with a beef burger.
We buy sun-dried tomato paste in a tube, like toothpaste. If you can't find it, substitute any tomato paste or sun-dried tomato spread.
Ingredients
(8)
1 pound lean ground beef

16 slice (about 1 ounce) pepperoni, chopped

2 tablespoon sun-dried tomato paste

1/4 cup chopped fresh basil

1/2 teaspoon salt

1/2 teaspoon Freshly ground black pepper

4 slice provolone or part-skim mozzarella cheese

4 hamburger buns
Ingredient Facts and Health Benefits
Discover fascinating facts and health benefits about some of the ingredients in the recipe, including other delicious recipes!
Directions
Combine beef, pepperoni, tomato paste, basil, salt and pepper in a large bowl. Shape into 4 burgers and grill, broil or pan-fry until cooked through. About 1 minute before removing from heat, place a slice of cheese on each burger. Place burgers on buns and serve.