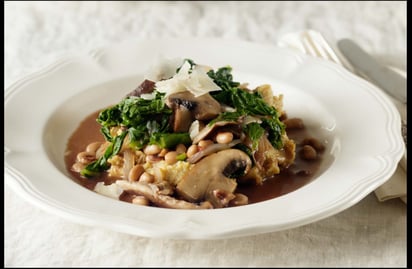 Mushroom and Black-Eyed Pea Ragout
Serve this thick and hearty vegetarian stew over creamy Parmesan polenta.
A ragout (ra-GOO) is a thick stew of meats or, in this case, vegetables. It's great with the creamy Parmesan Polenta, but also good with mashed potatoes or even grits.
Ingredients
(16)
3 tablespoon olive oil

1 large onion, sliced vertically

1/4 pound shiitake mushrooms, tough part of stems removed, thickly sliced

1/4 pound mixed mushrooms (such as cremini, baby bella and oyster mushrooms), sliced

4 clove garlic, crushed

2 1/2 cup mushroom or vegetable broth

1 tablespoon tomato paste

1/2 cup red wine

2 can (15-ounce) black-eyed peas, drained

1/2 teaspoon salt

Freshly ground black pepper

1/4 teaspoon honey

1/8 teaspoon Tabasco

1 bunch hearty greens (kale, turnip, mustard or chard) washed, thinly sliced and blanched

Parmesan Polenta (See Recipe)

Fresh shaved Parmesan, optional
Ingredient Facts and Health Benefits
Discover fascinating facts and health benefits about some of the ingredients in the recipe, including other delicious recipes!
Directions
Heat oil over medium heat in a large nonstick skillet. Add onion, mushrooms and garlic; saute until onions are soft, about 5 minutes.
Add broth, tomato paste, wine, black-eyed peas, salt, pepper, honey and Tabasco; bring to boil. Reduce heat, and simmer 20 minutes or until sauce thickens slightly. Stir in greens; cook until thoroughly heated.
Spoon Parmesan Polenta into serving bowls. Top with ragout and garnish with Parmesan shavings, if desired.