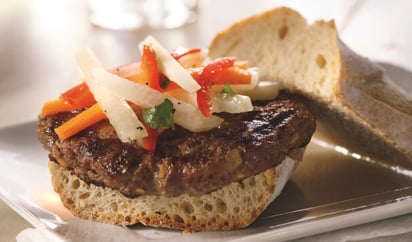 Gingered Buffalo Burgers with Jicama
Diced jicama melds with lime juice, red pepper and cilantro for a bright and crunchy note atop this unconventional burger.
Jicama, big on nutrition and low on calories, can be found in most supermarkets. Look for a very firm example with no soft spots or wrinkles.
Ingredients
(18)
Salsa:

1 medium jicama, peeled and julienned

1 medium red bell pepper, julienned

2 carrots, julienne

2 tablespoon fresh lime juice

2 tablespoon chopped cilantro

1 tablespoon extra-virgin olive oil

Burgers:

1 1/2 pound ground buffalo

1 1/2 tablespoon minced peeled fresh ginger

1/2 cup finely diced peeled jicama

2 garlic cloves, minced

1 tablespoon dry sherry or white wine

2 tablespoon low-sodium soy sauce

1 large egg, slightly beaten

1/2 teaspoon salt

1/2 teaspoon freshly ground black pepper

6 baguette, sliced open
Ingredient Facts and Health Benefits
Discover fascinating facts and health benefits about some of the ingredients in the recipe, including other delicious recipes!
Directions
To prepare salsa, combine all salsa ingredients in a medium bowl; toss well to coat.
To prepare burger patties, combine buffalo, ginger, jicama, garlic, sherry, soy sauce, egg, salt and pepper. Form into 6 patties about 3/4-inch thick. Place on a tray lined with plastic wrap, cover with more plastic wrap, and refrigerate until ready to cook. (Patties may be prepared 1 day ahead).
Preheat grill until hot. Place patties on the grill rack over coals and cook, covered, about 4 minutes. Flip, cover and cook 3 to 4 minutes more, until done. Place patties on baguette bottoms; top with jicama salsa and baguette tops.