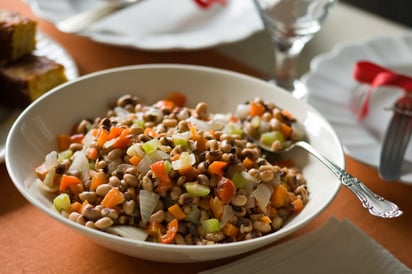 East-West Black-Eyed Peas
Black-eyed peas, a New Year's Day must, team up with miso for a bicultural celebration.
Miso, a fermented soybean paste, is available at natural foods supermarkets (in the refrigerator case) and Asian groceries.
Ingredients
(11)
3 tablespoon vegetable oil

1 onion, chopped

1/2 dried chipotle pepper, broken in half

2 carrots, chopped

2 celery stalks, chopped

1 red bell pepper, chopped (optional)

3 clove garlic, chopped

4 can (15-ounce) black-eyed peas

2 tablespoon heaping dark or light miso

1 teaspoon salt

Coarsely ground black pepper
Ingredient Facts and Health Benefits
Discover fascinating facts and health benefits about some of the ingredients in the recipe, including other delicious recipes!
Directions
Heat vegetable oil in a large, heavy skillet. Add onion and chipotle pepper; saute about 8 minutes. Add carrots, celery, bell pepper and garlic; saute 5 minutes.
Place peas in a large Dutch oven. Add onion mixture to peas. Add miso, sesame oil, salt and pepper. Stir gently. Cook over medium-low heat until thoroughly heated.