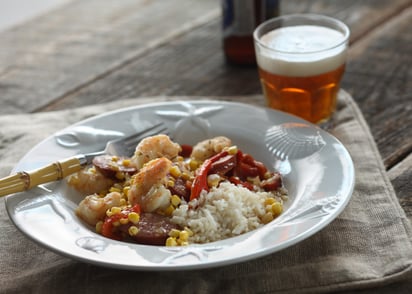 Shrimp with Kielbasa Smoked Sausage and Peppers
Kielbasa smoked sausage makes this shrimp dinner smoky, rich and complex.
Serve this hearty dish with hot white rice.
Ingredients
(9)
2 tablespoon butter

1 cup diced onion

1/2 pound smoked sausage (such as kielbasa), cut into 1/2-inch slices

1 pound shrimp, peeled and deveined

1/8 teaspoon each cayenne, black and white pepper

1/8 teaspoon each dried thyme, oregano and garlic powder

1/4 teaspoon salt

1 cup fresh or frozen corn kernels

1 roasted red bell pepper, cut into strips
Directions
Heat butter in a large skillet over medium-high heat. Add onion; saute until translucent. Add sausage; cook until it begins to color.
Add shrimp and seasonings; saute until shrimp barely turn pink. Add corn and roasted pepper; stir until combined and thoroughly heated.