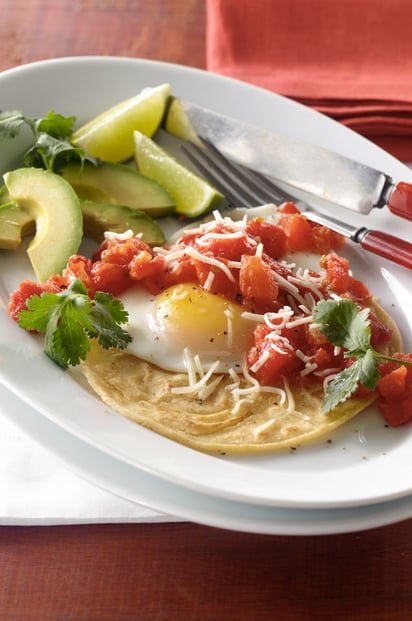 Huevos Rancheros
These simple Mexican-style eggs are perfect of a lazy weekend brunch.
Ingredients
(12)
1 tablespoon plus 2 teaspoons, vegetable oil, divided

1/4 cup chopped onion

1 small jalapeno pepper, seeded and minced

1 (14 1/2-ounce) can diced tomatoes

1/2 teaspoon sugar

1/8 teaspoon salt

1/8 teaspoon coarsely ground black pepper

4 corn tortillas

1 tablespoon butter

4 eggs

1/2 cup shredded Monterey Jack cheese

Chopped fresh cilantro
Ingredient Facts and Health Benefits
Discover fascinating facts and health benefits about some of the ingredients in the recipe, including other delicious recipes!
Directions
Heat 1 tablespoon oil in a medium saucepan over medium heat. Add onion and jalapeno; cook, stirring occasionally, 3 minutes or until onion is softened and starting to brown. Add tomatoes, sugar, salt and pepper; simmer uncovered, stirring occasionally, 7 to 10 minutes or until sauce is lightly thickened and reduced to about 1 1/2 cups. Cover and keep warm over very low heat.
Preheat oven to 200F. Brush tortillas on both sides with remaining oil. Warm a medium skillet over medium-high heat. Add tortillas, one at a time, and cook 30 to 60 seconds on each side or until golden brown in spots. Wrap in foil and place in oven to keep warm.
Melt butter in a large nonstick skillet over medium-low heat. Add eggs and fry 1 minute or until whites are partially set; cover and cook 3 to 4 minutes or until eggs are set. Place a tortilla on each of 4 warmed plates; top each with a fried egg and some of the sauce; sprinkle with cheese and cilantro.