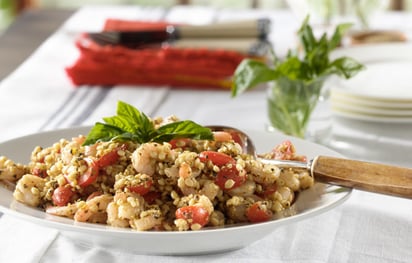 Shrimp, Orzo and Pistachio Pesto Salad
An aromatic pistachio pesto grounds this simple salad in flavor—an easy make-and-go dish for potlucks and get-togethers.
Ingredients
(16)
Pistachio Pesto:

1 cup shelled pistachios

2 garlic cloves

2 cup basil

1/4 cup Parmigiano-Reggiano cheese

1/2 teaspoon salt

Freshly ground black pepper

1/2 cup extra virgin olive oil

Salad:

2 cup cold cooked orzo pasta

1/2 cup Pistachio Pesto

1 pound cooked shrimp

2 tablespoon lemon juice

2 cup halved cherry tomatoes

1/2 teaspoon salt

Coarsely ground black pepper
Directions
To prepare pesto, place pistachios and garlic in a food processor; process until minced. Add basil, cheese, salt and pepper; process until finely minced. With processor on, slowly pour oil through food chute; process until well blended. Reserve 1/2 cup for salad; spoon remaining 1 cup pesto into a zip-top plastic bag; store in refrigerator.
To prepare salad, combine all ingredients in a bowl; toss well. Serve at room temperature or chilled.