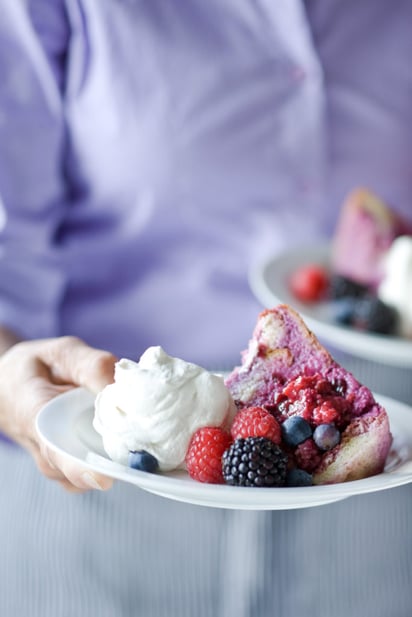 English Summer Pudding
One of our favorite British desserts, this English Summer Pudding is bursting with freshness and vibrant color.
Ingredients
(6)
8 cup assorted berries (blueberries, strawberries, raspberries, blackberries), divided

1 cup water

3/4 cup sugar

1 tablespoon vanilla extract

1 (18-ounce) brioche loaf

Whipped cream
Ingredient Facts and Health Benefits
Discover fascinating facts and health benefits about some of the ingredients in the recipe, including other delicious recipes!
Directions
Mix 6 cups of berries with the water and sugar in a large saucepan. Cook over medium heat, stirring gently, until berries start to soften and sugar dissolves, about 15 minutes. Remove from heat.
Stir in 1 1/2 cups of remaining berries. Strain berry mixture, reserving all the juice and berries. Stir vanilla into juice. Line a 2-quart serving bowl with plastic wrap.
Cut a slice of brioche to fit the bottom of the bowl. Dip into juice and place in bottom of bowl. Cut the remaining brioche into wedges and dip each piece, one at a time, into juice.
Place three-fourths of the juice-soaked brioche wedges against the sides of bowl pressing to remove any gaps. Spoon berries into center. Top with remaining brioche wedges.
Cover with plastic wrap. Press down with your hands until juices rise to the top. Place a plate on top, and set weights on the plate (2 or 3 cans of soup work well). Refrigerate at least 8 hours.
To serve, remove weights, plate and top plastic wrap. Place a serving plate on top of bowl and quickly turn both over together, shaking gently, so that the pudding releases from the bowl. Remove plastic wrap. Cut into wedges and serve with remaining berries and whipped cream.