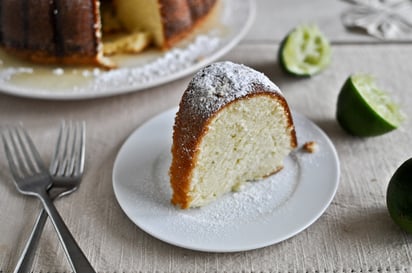 Limed-Up Cream Cheese Pound Cake
A delicate, citrus pound cake makes a great springtime dessert for any occasion.
Ingredients
(15)
Cake:

1 1/2 cup (3 sticks) unsalted butter, at room temperature

1 (8-ounce) block cream cheese, at room temperature

3 cup granulated sugar

6 large eggs, at room temperature

3 cup all-purpose flour, sifted

1/4 teaspoon salt

1 1/2 teaspoon vanilla extract

1/4 teaspoon almond extract

Finely grated rind and juice of 1 lime

Glaze:

1/4 cup granulated sugar

1/4 cup (1/2 stick) butter

3 tablespoon lime juice

1/4 cup powdered sugar, optional for garnish
Ingredient Facts and Health Benefits
Discover fascinating facts and health benefits about some of the ingredients in the recipe, including other delicious recipes!
Directions
Preheat oven to 325F. Grease a 12-cup bundt pan. Dust pan with flour to prevent sticking.
To prepare cake, in a large mixing bowl, cream butter, cream cheese and sugar together on low speed for about 10 minutes until light and fluffy.
Beat in eggs alternately with flour, mixing well after each addition. Add salt, vanilla, almond extract, lime juice and peel. Mix until combined. Be careful to not overbeat. If you do, it could dry the cake out.
Pour batter into prepared pan. Bake 1 1/2 hours or until a toothpick or cake tester inserted in the center of the cake comes out clean. Let cool 10 minutes. Turn onto cake plate. While cake is still warm prick top with toothpicks and pour hot glaze over warm cake.
To prepare glaze, combine granulated sugar, butter and lime juice in a sauce pan, bring to a boil; continue to boil 1 minute. Drizzle slowly over warm cake. Let cake cool completely before dusting with powdered sugar, if using.