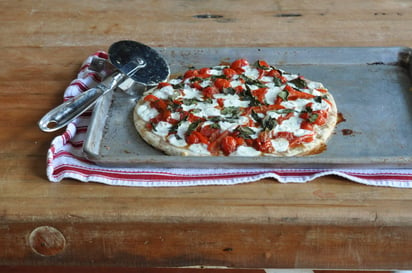 Tomato Basil Pizza
An easy-to-toss-together pizza that is simplicity itself in ingredients, but complex as can be in flavor.
Ingredients
(10)
1 pizza dough for a 14-inch pizza

2 tablespoon olive oil

2 cup fresh cherry tomatoes, halved

2 shallots, diced

2 garlic cloves, chopped

1 red bell pepper, chopped

2 ounce grated Romano Cheese

6 ounce fresh mozzarella cheese, sliced

fresh basil, torn

Splash of red wine
Ingredient Facts and Health Benefits
Discover fascinating facts and health benefits about some of the ingredients in the recipe, including other delicious recipes!
Directions
Heat oil in a large skillet. Add tomatoes, garlic, shallots, pepper and sauté until tomatoes are browned and sizzling, about 10 minutes. Add a splash of wine to deglaze pan. Smash half of the tomatoes to make it a bit saucy.
Sprinkle Romano on dough. Spoon tomato mixture on top of cheese. Top with fresh mozzarella and basil. Bake at 450 for 10 minutes or until browned and melted.