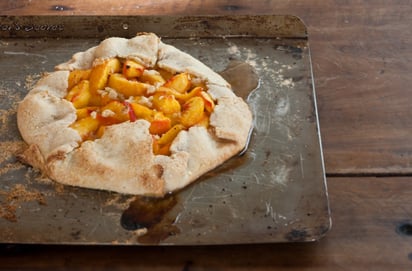 Peach Crostata
A crostata is an Italian free-form dessert tart—shape it any way you want.
This recipe is based on one from Frank Stitt's Southern Table, Recipes and Gracious Traditions from Highland's Bar and Grill (Artisan, 2004).
Ingredients
(12)
Crust:

2 cup all-purpose flour

1/3 cup ground pecans

1/2 cup granulated sugar

1 teaspoon coarse salt

10 tablespoon (1 1/4 sticks) sticks butter, chilled and grated

1/4 cup water

Filling:

2 1/2 pound fresh ripe peaches, peeled and sliced

2 tablespoon all-purpose flour

1/4 cup granulated sugar

3 tablespoon turbinado sugar
Ingredient Facts and Health Benefits
Discover fascinating facts and health benefits about some of the ingredients in the recipe, including other delicious recipes!
Directions
To prepare crust, combine flour, pecans, sugar and salt. Add grated butter and mix with hands until mixture resembles small peas. Add water; stir until mixture comes together. Pat dough into a disk. Wrap in wax paper and chill at least 30 minutes.
Preheat oven to 450F.
Roll dough out on a floured surface. Place on baking sheet.
To prepare filling, toss peaches with 2 tablespoons flour and 1/4 cup granulated sugar. Pile onto center of dough. Fold up edges of dough to cover peaches partially. Sprinkle with turbinado sugar. Bake 25 minutes or until browned.