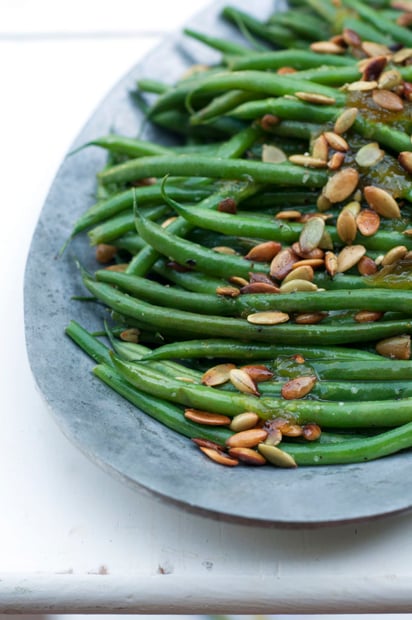 Green Beans with Figs and Pumpkin Seeds
A sauce for green beans that both kids and adults will love.
To prepare the green beans, steam 2 (12-ounce) packages of green beans in the microwave according to the package directions. Place in a large bowl and toss with 1 teaspoon butter, 1/2 teaspoon salt and 1/4 teaspoon freshly ground black pepper.
Ingredients
(7)
Pumpkin Seeds:

1 cup pumpkin seeds

1 tablespoon vegetable oil

1 teaspoon salt

1/2 teaspoon freshly ground black pepper

Sauce:

1/2 cup fig preserves
Ingredient Facts and Health Benefits
Discover fascinating facts and health benefits about some of the ingredients in the recipe, including other delicious recipes!
Directions
Preheat broiler.
To prepare pumpkin seeds, place seeds on a baking sheet. Drizzle with vegetable oil and sprinkle with salt and pepper. Toss to coat. Place under the broiler 2 minutes, or until nicely toasted. Remove and let cool.
Toss steamed green beans with fig preserves. Place on a platter and sprinkle with pumpkin seeds. (Analysis includes green beans.)