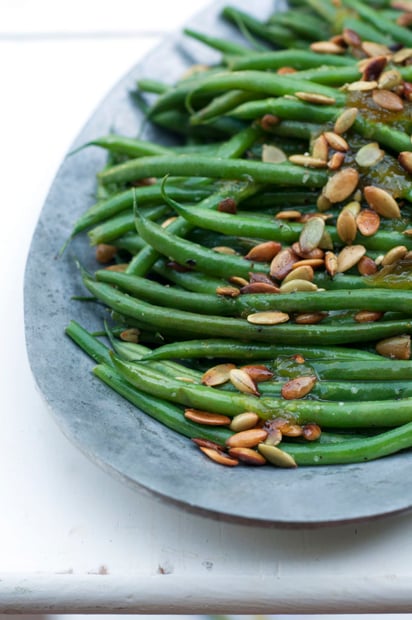 Green Beans with Figs and Pumpkin Seeds
A sauce for green beans that both kids and adults will love.
To prepare the green beans, steam 2 (12-ounce) packages of green beans in the microwave according to the package directions. Place in a large bowl and toss with 1 teaspoon butter, 1/2 teaspoon salt and 1/4 teaspoon freshly ground black pepper.
Ingredients
(7)
Pumpkin Seeds:

1 cup pumpkin seeds

1 tablespoon vegetable oil

1 teaspoon salt

1/2 teaspoon freshly ground black pepper

Sauce:

1/2 cup fig preserves
Directions
Preheat broiler.
To prepare pumpkin seeds, place seeds on a baking sheet. Drizzle with vegetable oil and sprinkle with salt and pepper. Toss to coat. Place under the broiler 2 minutes, or until nicely toasted. Remove and let cool.
Toss steamed green beans with fig preserves. Place on a platter and sprinkle with pumpkin seeds. (Analysis includes green beans.)