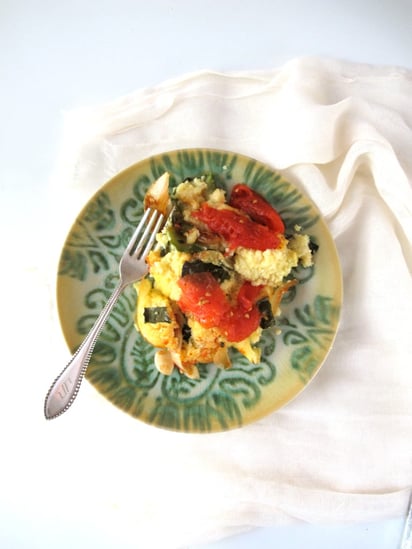 Italian Flag Grits
Grits cook up rich and soufflé-like in this layered casserole.
Ingredients
(22)
Zucchini Layer:

2 medium zucchini, sliced lengthwise into 1/4-inch planks

1 tablespoon olive oil

1/2 teaspoon salt

1 cup loosely packed fresh basil leaves

Roasted Tomato Layer:

4 whole ripe tomatoes

1 tablespoon olive oil

1 small onion

3 garlic cloves

1/2 teaspoon salt

Freshly ground black pepper

Sprigs of fresh thyme

Grits Souffle Layer:

4 cup water

1 cup stone-ground grits

1 teaspoon salt, divided

1/2 teaspoon black pepper

1 teaspoon granulated garlic

1/2 cup 2-percent reduced fat milk

2 eggs, lightly beaten

1 cup grated Pecorino Romano
Ingredient Facts and Health Benefits
Discover fascinating facts and health benefits about some of the ingredients in the recipe, including other delicious recipes!
Directions
Preheat oven to 425F.
To prepare the zucchini layer, place zucchini slices on a baking sheet. Brush with olive oil and sprinkle with 1/2 teaspoon salt. Roast about 15 minutes, until edges are browned. Â Remove from oven and let cool.
To prepare the tomato layer, core tomatoes, slice in half, and place on a baking sheet, skin side up. Brush with olive oil. Slice onion vertically into 1/4-inch strips. Scatter onions on baking sheet, along with garlic, and thyme. Sprinkle with salt and pepper. Place in oven and roast 15 to 20 minutes, until tomatoes skins are blackened and puffed. Let cool.
Slip off tomato skins and discard. Squeeze garlic out of casings. Coarsely chop tomatoes, onions and garlic together, along with accumulated roasting juices. Pour into a bowl.
To prepare the grits layer, place water, grits, salt, pepper and granulated garlic in a large saucepan over medium heat. Bring to a boil, stirring well, and then simmer until thickened, about 20 minutes. Remove from heat. Beat eggs and milk together, and whisk vigorously into cooked grits. Fold in grated cheese.
Preheat oven (or reduce oven temperature) to 350F.
To assemble, cover the bottom of a 13 x 9-inch baking dish with zucchini slices, overlapping slightly if necessary. Place half the basil leaves over zucchini slices. Pour grits mixture over zucchini. Place remaining basil leaves over top. Bake 40 minutes, or until grits are firm, golden brown and bubbly.
Remove from oven, and spoon roasted tomatoes over top.