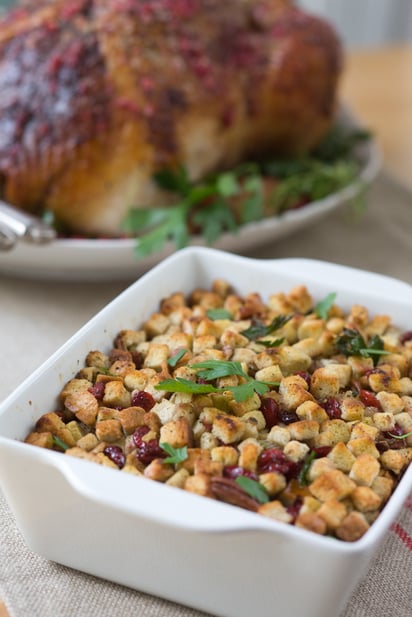 Classic Bread Stuffing
Only about 2 to 3 cups of stuffing will fit inside the bird. Place the rest in a dish, cover and bake. Remember, the stuffing that cooks inside the bird will be very moist from the turkey juices. The stuffing in the dish will be a bit drier. This amount of stuffing will fit inside a 12-pound turkey. Double it for a larger bird or if you want leftovers.
Ingredients
(13)
3/4 cup dried cranberries

2 tablespoon olive oil

2 tablespoon butter

1/2 cup diced yellow onion

1/2 cup diced celery hearts

4 garlic cloves, minced

2 tablespoon minced fresh sage

1 teaspoon coarse salt

1 teaspoon freshly ground black pepper

4 cup toasted bread cubes or croutons

1/3 cup pecan pieces

1/4 cup coarsely chopped flat-leaf parsley leaves

1 to 1 1/2 cup reduced-sodium chicken broth
Ingredient Facts and Health Benefits
Discover fascinating facts and health benefits about some of the ingredients in the recipe, including other delicious recipes!
Directions
Combine dried cranberries and hot water; soak 30 minutes to plump.
Heat olive oil and butter in a skillet over medium heat. Add onions and celery and cook about 8 minutes. Add garlic, sage, salt and pepper and cook 3 minutes. Remove from heat and let cool 10 minutes.
Combine vegetables with remaining ingredients and mix gently with a spatula or spoon. Cover and refrigerate until needed.
Spoon stuffing into the cavity of a prepared turkey and roast. Or place stuffing in a shallow baking dish and bake 30 minutes at 350F. Makes 6 cups.