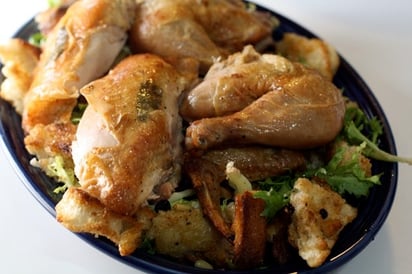 Zuni Roasted Chicken with Bread Salad
Ingredients
(16)
The bird:

1 small chicken, 2.75-3.5 pounds

4 sprigs of fresh thyme, marjoram, rosemary or sage (I went with sage.)

Kosher salt

Black pepper

The salad:

8 ounces slightly stale, chewy bread (not sourdough).

6 Tablespoons olive oil

2 Tablespoons Champagne or white wine vinegar

2 Tablespoons dried currants

Red wine vinegar (to soak the currants in)

2 Tablespoons pine nuts

3 garlic cloves, slivered

1/4 Cup scallions, slivered

2 Tablespoons chicken stock (if you don't have fresh, just use lightly salted water which is what I did. Worked great.)

A few handfuls of greens. I used frisée and found it to be too bitter. I would try arugula next time.
Ingredient Facts and Health Benefits
Discover fascinating facts and health benefits about some of the ingredients in the recipe, including other delicious recipes!
Directions
Learn how to make this recipe at Macheesmo