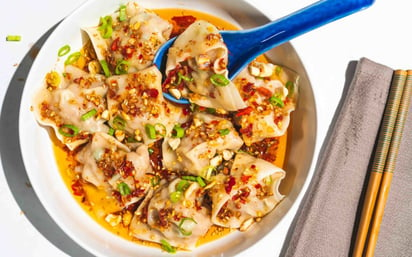 Chili Oil Dumplings
Ingredients
(18)
Dumplings
1 lb Ground Pork

or

1 lb Ground Chicken

or

1 lb Ground Turkey

2 tsp Kosher Salt

1 T Sugar

2 Scallions

2 Garlic Cloves

2 tsp White Wine

40 Square Wonton Wrappers
Chili Oil
8 Dried Red Chinese Chiles

or

8 Dried Arbol Chiles

2 tsp Sichuan Peppercorns (Szechuan)

(optional)

¼ cup Vegetable Oil

or

¼ cup Canola Oil

1 T Toasted Sesame Oil

3 T Chinese Black Vinegar

or

1½ T Apple Cider Vinegar

2 T Soy Sauce

1 T Sugar

3 Garlic Cloves

1 T Toasted Sesame Seeds

2 T Minced Cilantro

2 T Roasted Peanuts

(optional)
Ingredient Facts and Health Benefits
Discover fascinating facts and health benefits about some of the ingredients in the recipe, including other delicious recipes!
Directions
Filling
In a medium bowl stir together the ground pork, salt, sugar, scallions, garlic and Shaoxing wine until evenly mixed.
Set up your dumpling making station: wonton wrappers covered in plastic wrap (so they don't dry out), a bowl of water, the filling, a wet towel for wiping your fingers and a plate or parchment lined tray.
Dumplings
Place 1 tablespoon of filling in the center of a wonton wrapper. Dip a finger in the water and slightly dampen two edges of the wrapper. Fold up one half of the wrapper so that you have a triangle. Barely dampen one of the bottom edges and bring the two bottom pieces together just under the belly of the filling. It should look like tortellini. Transfer to the plate or tray and keep going until all of the wonton wrappers have been used. Refrigerate until ready to cook. Alternatively, you can freeze these for 1 hour until they're fairly solid then place in a zip top bag or airtight container and freeze for up to 2 months.
Bring a large stockpot of water to a boil.
While the water is coming to a boil, make the chili oil sauce:  Toast the chilies in a saute pan over medium heat until aromatic, about 2 minutes. Transfer to a mortar and pestle and crush until they resemble crushed red pepper flakes. Alternatively, you can chop the chilies on a cutting board or use a spice grinder or food processor. Transfer to a mixing bowl.
In the same saute pan used to toast the chiles, heat the oil over medium heat until it shimmers. Immediately pour over the crushed chiles- it should sizzle! Add the sesame oil and set aside.
In a separate bowl combine the black vinegar, soy sauce, sugar and garlic. Stir until the sugar is completely dissolved then add to the chili oil. Stir in the sesame seeds. (This sauce can be made ahead of time; it will be good for up to 2 weeks in the fridge in an airtight container.)
Once the water is boiling add 12 dumplings and cook for 4 to 5 minutes. Use a slotted spoon or spider to transfer to serving bowls. Spoon the chili oil on top of the dumplings and garnish with the cilantro and peanuts (if using).