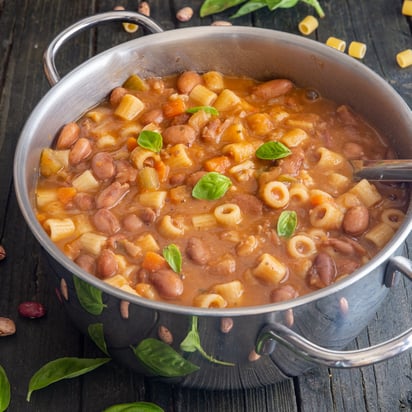 Pasta e Fagioli / Pasta and Beans
Ingredients
(16)
1 ¼ cups dried Borlotti beans* (soaked 8-12 hours in a bowl of water drained and rinsed)

2 tablespoons olive oil

1 clove garlic (minced)

½-1 onion chopped

1 celery stalk chopped

2 carrots chopped

4 cups vegetable broth**

¾ teaspoon oregano

¾ teaspoon basil

½ teaspoon salt

pinch or 2 of hot pepper flakes if desired

¾ cup tomato puree (passata)

2 cups water

1 ¼ cup dried pasta (small ditaloni, quadrucci etc)

*The cooked beans should equal about 2 ½ cups, if you use canned beans then be sure to drain them.:

**Vegetable broth can be homemade or store bought.:
Ingredient Facts and Health Benefits
Discover fascinating facts and health benefits about some of the ingredients in the recipe, including other delicious recipes!