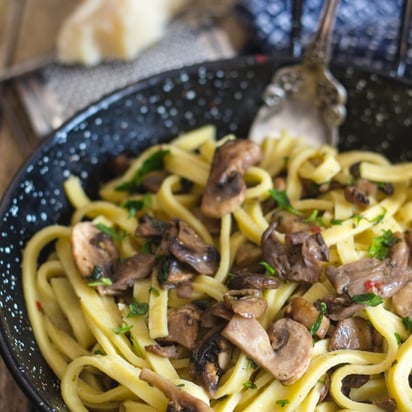 Easy Italian Mushroom Fettuccine
Ingredients
(11)
2 cups galletti mushrooms chopped , (also known as chanterelles or finferli mushrooms)

1 cup white mushrooms chopped*

1/4 teaspoon salt

1/4 cup olive oil

1-2 clove garlic chopped

1/4 cup chopped fresh Italian parsley

1-2 pinches hot pepper flakes if desired

1/4 cup water

3 cups cooked fettuccine**

* To clean mushrooms: use a damp cloth or paper towel to gently brush any dirt off the mushroomstrim up to 1/4 from the bottom of any stems that appear discoloured, soggy, or not completely fresh, if you must rinse quickly with cold water never warm or hot.:

**Fettuccine can be dried or a fresh egg pasta.:
Ingredient Facts and Health Benefits
Discover fascinating facts and health benefits about some of the ingredients in the recipe, including other delicious recipes!