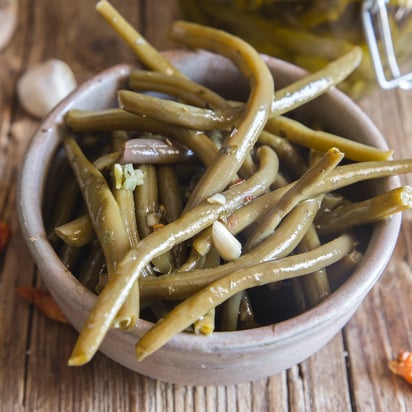 Preserving Green Beans Italian Style
Ingredients
(14)
1 pound green beans

3 cups water

2 cups white wine vinegar

1-2 teaspoons salt

1-2 cloves garlic finely chopped

2-3 pinches hot pepper flakes

1/2-1 teaspoon oregano

4-5 sprigs parsley finely chopped (or more if desired)

salt to taste*

EXTRA:

2-3 cups oil (corn, sunflower or olive oil) (more if necessary)

2 half quart mason jars**

*Taste the beans first they may not need any extra salt.:

**I used 2 jars, but if you prefer you can use 3 smaller jars or even 1 large one, just make sure the beans are completely covered in oil.:
Ingredient Facts and Health Benefits
Discover fascinating facts and health benefits about some of the ingredients in the recipe, including other delicious recipes!