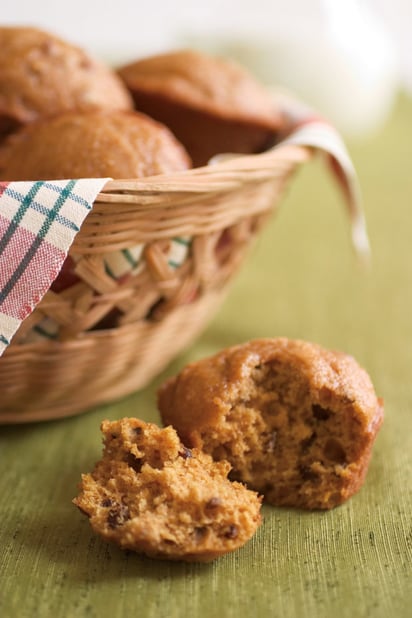 Pumpkin Applesauce Muffins
A delicious, nutty fall breakfast.
These muffins are very moist and a delicious healthy snack. They are good with a glass of milk for breakfast.
Ingredients
(14)
⅔ cup Vegetable Shortening

2⅔ cup Sugar

4 Eggs

1 cup Applesauce

1 cup Canned Pumpkin Puree

⅔ cup Apple Juice

3⅓ cup All Purpose Flour

2 tsp Baking Soda

½ tsp Baking Powder

1½ tsp Salt

½ tsp Ground Nutmeg

1 tsp Ground Cinnamon

½ tsp Ground Mace

1 cup Chopped Walnuts
Ingredient Facts and Health Benefits
Discover fascinating facts and health benefits about some of the ingredients in the recipe, including other delicious recipes!
Directions
Preheat the oven to 350F. Grease the cups of muffin tins.

Cream together the shortening and sugar. Add the eggs one at a time. Stir in the applesauce and pumpkin until well mixed.

Next add the apple juice, flour, baking soda, and baking powder. Don't over mix. When just smooth, add the salt, nutmeg, cinnamon, and mace. Stir in the walnuts.

Pour into the prepared muffin tins.

Bake for 20 minutes, until a toothpick inserted in the center comes out clean.