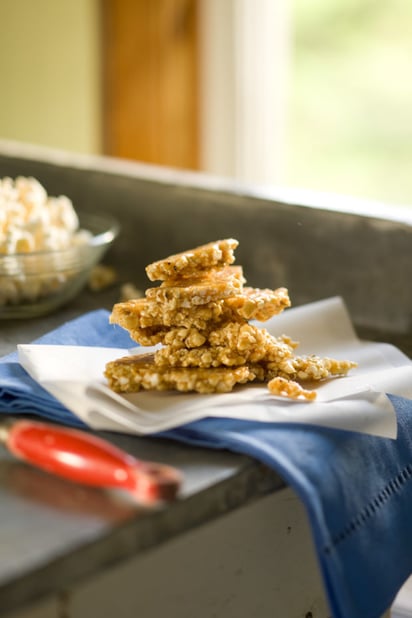 Popcorn Brittle
Airy popcorn is the special ingredient in this irresistibly sweet and salty candy.
This snack combines the sweet crunchy texture of brittle with the airy saltiness of popcorn. Great as a gift for the holidays or for the kids to munch on Halloween.
Ingredients
(9)
½ cup Popcorn Kernels

2 T Canola Oil

2 cup Sugar

1 cup Light Corn Syrup

1 cup Water

1 tsp Salt

2 T Unsalted Butter

1 T Unsulphured Molasses

1 tsp Vanilla Extract
Ingredient Facts and Health Benefits
Discover fascinating facts and health benefits about some of the ingredients in the recipe, including other delicious recipes!
Directions
Lightly butter 2 large (15 x 11-inch) baking sheets and a rubber spatula or wooden spoon.

Working in batches, place 2 cups popcorn in food processor. Pulse until crushed into small pieces. Do not overprocess. Repeat with remaining popcorn.

Stir sugar, corn syrup, water and salt in a medium saucepan over medium heat until sugar dissolves and mixture is simmering. Clip a candy thermometer to the inside of the pan and continue heating undisturbed until temperature reaches 270F (about 10 to 15 minutes). Mixture will boil vigorously.

Stir in butter, molasses and vanilla. Continue heating until temperature reaches 290F (between soft- and hard-crack stages).

Remove pan from heat; stir in crushed popcorn. Working quickly, pour mixture over prepared sheets. Using the buttered rubber spatula, press evenly to flatten like peanut brittle. Cool to room temperature on a wire rack and break into chunks.