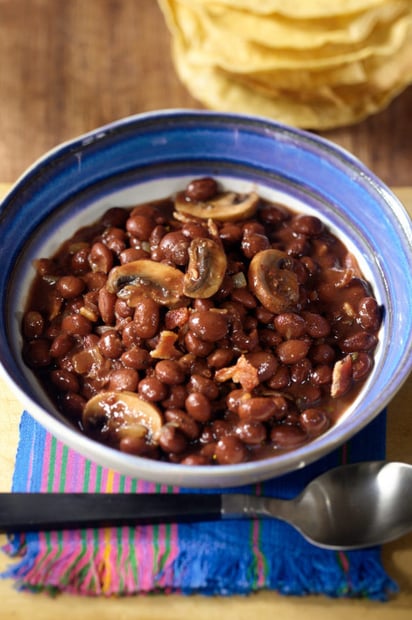 Rancho Gordo Drunken Beans
Dark, sweet beer gives these "drunken" beans extra punch. This recipe comes straight from Rancho Gordo in California.
Not sweet or tomato-y like canned baked beans, these are great over rice or served with fresh corn tortillas. Use a dark, sweet beer such as Killian's or Michelob Amber Bock.
Ingredients
(11)
1 T Vegetable Oil

1 cup Chopped Onion

2 Garlic Cloves

2 cup Dried Ojo de Cabra (Goat's Eye) Beans

or

2 cup Canned Pinto Beans

¾ cup Dark Beer

1 Thick Cut Bacon Strip

3 Serrano Chiles

½ lb Button Mushrooms

½ tsp Salt

1 tsp Freshly Ground Black Pepper

1 Lime
Ingredient Facts and Health Benefits
Discover fascinating facts and health benefits about some of the ingredients in the recipe, including other delicious recipes!
Directions
Heat oil in a heavy saucepan; add 1/4 cup chopped onion and 1 minced garlic clove. Sauté about 5 minutes. Add beans and enough cold water to cover by 3 inches. Bring to a boil, reduce heat to medium-low and simmer, uncovered, 2 hours or until beans are tender, adding water as necessary to keep beans covered.

Add beer and simmer about 15 minutes.

Cook bacon in large skillet until crisp. Remove bacon and all but 1 tablespoon of fat from pan, reserving bacon. Add peppers and remaining onion and garlic to pan; sauté until tender. Add mushrooms; cook until tender. Chop reserved bacon and add to pan.

Combine bacon mixture with bean mixture. Cook 10 to 15 minutes. Season with salt and black pepper. Serve with lime wedges.